I won in last week's
Hump Day $50 Giveaway
, maybe it's your turn now (or I wouldn't mind winning again ;) ).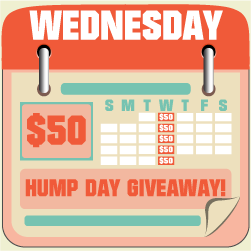 It's Wednesday once again and time for our 1-day event through Hump Day $50 Giveaway! The task for today is Twitter Follow and for all entries to be available, you need to
complete the first 3 mandatory tasks before the rest of the entries are enabled
. There are a total of 34 entries for a chance to win $50. This is all thanks to our wonderful blog partners and sponsors who continuously support
Hump Day $50 Giveaway
every week.
NEW

:
After entering the mandatory entries, you will be taken to a
separate page
to follow the 25 other sponsors. Please completely
FOLLOW ALL 25 on the separate page to be eligible for the 25 points. All the sponsors will verify your entry and if you miss to follow one, your 25-point entry will be disqualified
. After following all 25 entries (link to all the twitter button will be grayed out), come back to the blog page you first entered on to complete the rest of the Rafflecopter task
s
.
You may also want to visit our sponsors to show them some love:
My Tots Exactly | Frugal Experiments | Life's Cheap Thrills | Extreme Personal Measures | Fab and Healthy | Beauty Queen Gene | My bric-a-brac | Experience of a Super Mommy | Advocating Breastfeeding | Flowing Rhythms | The 24-Hour Mommy | Diva Fabulosa | Mirage | Coupon Queen of Texas | Sonya's Happenings | Money Saving Mindy | Building Carpenters | Drama Queen | Wrap it with Kelli | June Bug Mom | Pensive Thoughts | Happy Mothering | Bloggers Tech | Wonderful Things In Life | http://www.iwahm.info/ | Mommy and Matt | Home Stuff 101